Monday, October 8th, 2018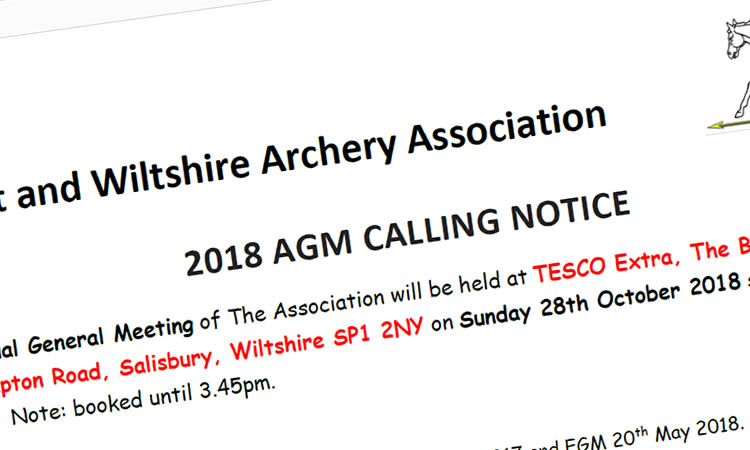 The Annual General Meeting of The Association will be held at TESCO Extra, The Bourne Centre, Southampton Road, Salisbury, Wiltshire SP1 2NY on Sunday 28th October 2018 starting at 1.00pm.  Note: booked until 3.45pm.
AGENDA
Apologies for absence.
Minutes of the previous meeting – AGM 7th October 2017 and EGM 20th May 2018.
Matters arising from the minutes.
President's address by Tony Smith.
Chairman's report
Secretary's report
Treasurer's report and presentation of independently verified presentation of the accounts for the year 2017/2018.
Review of the Constitution
Motions received by the Hon. Secretary
Election of Officers
Any Other Business
To Elect the Officers of The Association:
Position – Present holder
Chairman – Mark Pledger
Hon. Secretary – Gloria Mead
Hon. Treasurer – Ralph Wood
Equipment Officer – John Prior
County Coaching Organiser – Kay Hobbs
Senior Records Officer – Joan Griffiths
Judges' Liaison Officer – Paul Burden
Junior Records Officer – Michelle Orme
Junior County Team Manager – Michelle Orme
Senior County Team Manager – Dave Reynolds
Web Master – Mark Excell
Protection Officer – Paul Burden
Disabled Persons Officer – Janice Reynolds
Representatives to GWAS Council – Paul Burden / Victoria Burden
Tournament Organisers – 2019
Indoor Championships
Gerald Farrell
Salisbury WA 1440
Chris Labdon
Wiltshire WA 1440
Jane Prior
Double 720
Dave Reynolds
Championship Weekend
Victoria Burden
Any matters for inclusion under A.O.B please submit to Hon. Secretary prior to the meeting, time permitting all points will be covered.
Gloria Mead (Hon. Secretary) Sent: 7th October 2018 (dwaasecretary1@gmail.com)
IT IS THE DUTY OF ALL THE CLUB SECRETARIES TO BRING THIS NOTICE TO THE ATTENTION OF THEIR CLUB MEMBERS.
Filed under : County News