Saturday, September 1st, 2018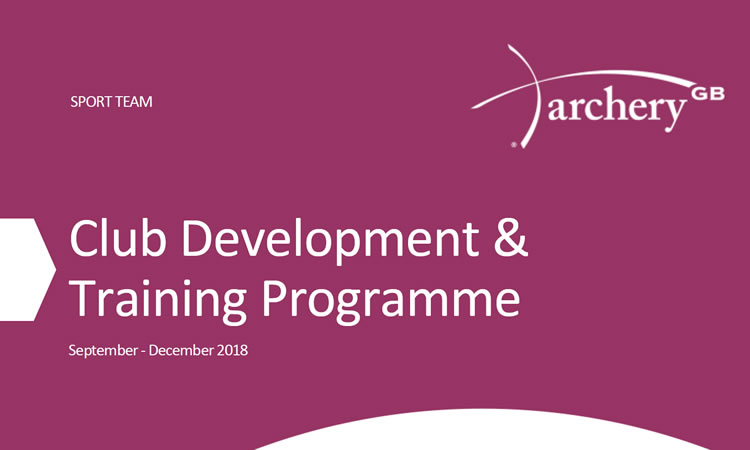 Click here to read the offical PDF
recruiting! Can you help us to the develop the next generation of coaches?
We're looking for people who love learning, coaching, and helping others succeed. Archery GB is committed to creating a culture of equality in our sport, and as part of this we want to create a more diverse workforce.
Find out more about how you can deliver our courses and workshops by coming along to our free open day, where you can:
Meet the Archery GB team involved in creating and delivering coaching courses
Hear from current Coach Developers who excel in this role
Discuss the characteristics of great Coach Developers
Think about how you would like to progress your career
Find out about opportunities for support, training and development
Get to know if this role appeals to you
The role is paid and involves a commitment to travel and work on the weekends.
When: Saturday 13 October
Where: Lilleshall National Sports & Conferencing Centre, Shropshire, TF10 9AT
Time:   10am – 3pm
For further information please read our Guidance for Coach Developers available here.   
Register your place at this event for free at the Archery GB Members Portal. 
What's on September – December?
TAKE A LOOK AT OUR PROGRAMME FOR VOLUNTEERS, COACHES, AND ARCHERS
This Autumn and Winter there will be a variety of events available to support our coaches, clubs and members. This includes:
Workshops for archers and coaches led by Lloyd Brown and Richard Priestman
Workshops forontarget clubs
Training for young people to become Judges
IANSEO training
See the attached programme for full details and to find out how to book your place.
Please can you share this programme with your coaches or anyone else who might be interested.
We're teaming up with the University of Birmingham
NEW RESEARCH INTO MOTIVATIONAL CLIMATE IN ARCHERY
We're teaming up with the University of Birmingham to find out the unique ingredients that make archers feel motivated and empowered. This is a really important question because not everyone reaps the positive benefits that archery can bring. Rather than helping them feel better about themselves, playing sport can damage some people's sense of self-worth. As a result, many people drop out of sport.
This research is the first of its kind in archery, and it will help us to better understand the many factors upon whether archery is experienced as positive or negative. Using the findings, we will be able to help coaches and parents to understand empowering principles and develop their own strategies for creating a more empowering climate. The purpose of commissioning this project is to help archery to be engaging, enjoyable and empowering for every person taking part.
The research will be led independently of Archery GB by Professor Joan Duda, who is recognised worldwide for her expertise on motivation psychology and coaching.  
THE COACH LICENCE SCHEME IS CURRENTLY UNDER REVIEW
 are undertaking a review of the licence renewal scheme. We want to ensure that it is both meaningful to coaches and members. 
We would like to hear from coaches (including those who have used the scheme and those who haven't), as well as those responsible for renewing coaches locally including CCOs, RCOs, and renewal panel members. Based on the feedback and ideas we receive we will begin to identify how this may be changed for the future.
Two online surveys are now open until the end of August.
Coaches can take part in the consultation here.
CCOs, RCOs, and renewal panel members can take part in the consultation here.
Contact us
GETTING IN TOUCH WITH THE COACHING TEAM
You can reach us at coaching@archerygb.org or by phoning 01952 602795.
Coaching Systems Manager –  Hannah Bussey (hannah.bussey@archerygb.org)
Coach Development Manager –  Lloyd Brown (lloyd.brown@archerygb.org)
Coaching Support Officer – Barbara Barrett (barbara.barrett@archerygb.org)
Administration Support Officer – Kate Dunnighan (kate.dunnighan@archerygb.org)
Coaching Business Coordinator – Nicky Hunt (nicky.hunt@archerygb.org)
Filed under : County News